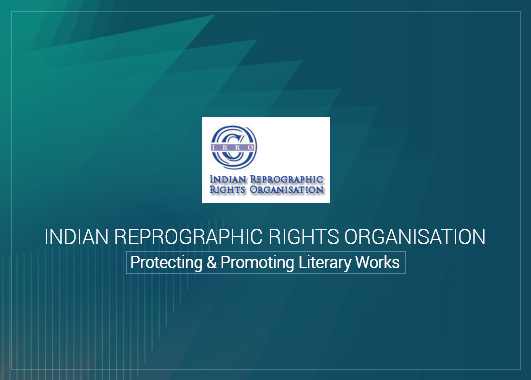 As individual publishers, we have many ethical, social, economical and cultural responsibilities to fulfill. At times, however, it takes more than an individual to take a stand. When an individual's efforts aren't enough, there comes about the need for a more collective effort. Apex bodies like International Publishers Association, Federation of Indian Publishers (FIP), Afro Asian Book Council (AABC) and Association of Publishers India (API) are instrumental in uniting publishers for a bigger cause, and have been providing their much-needed support to uphold publishers' rights and interests.
For a while now, I have been associated with organisations like FIP, AABC and CAPEXIL to contribute towards addressing, and finding effective solutions to, ethical or operational issues faced by publishers and authors. In my recent endeavour for the same, I became a part of the Indian Reprographic Rights Organisation (IRRO) as an executive member. I am honoured and thankful for this opportunity to work with such experienced members, and wish to help them do the great work that they have been doing for over 60 years now.
The thirteenth Annual General Meeting of the Indian Reprographic Rights Organisation (IRRO) was held on 27th March, 2018. In this meeting, the new team of members of its governing body was elected anonymously for the year 2018-19. Here's a list:
Chairman – Shri Narendra Kumar Mehra
Vice-Chairman – Dr. S.S. Awasthy
Secretary General – Dr. Ashok Gupta
Treasurer – Shri H.K. Rastogi
EXECUTIVE MEMBERS
1. Shri Naveen Gupta
2. Shri Amar Nath Verma
3. Shri Pranav Gupta
4. Dr. Vijay Bhushan Aggarwal
5. Shri Ratnesh Kumar Jha
6. Shri Neeraj Jain
7. Dr. Sarojini Pritam
8. Dr. Suresh Sharma
9. Shri B.S. Bagla
Indian Reprographic Rights Organisation (IRRO) is a copyright society, authorised by the Ministry of Human Resource Development, Government of India, to works towards the protection of published literary works. They represent the rights of owners (authors and publishers) and provides license to the users on their behalf. IRRO is authorised by owners of the literary work to issue collective licenses that allows copying from books, journals and magazines, within certain limits and subjected to certain exclusions. It also issues blanket licenses to organisations which covers copying throughout that particular year. The new governing body of IRRO has its eyes set on a common goal to realise the vision of building a sustainable publishing environment.
Wish to know what's new in the publishing world? Visit my blog: www.pranavgupta.me