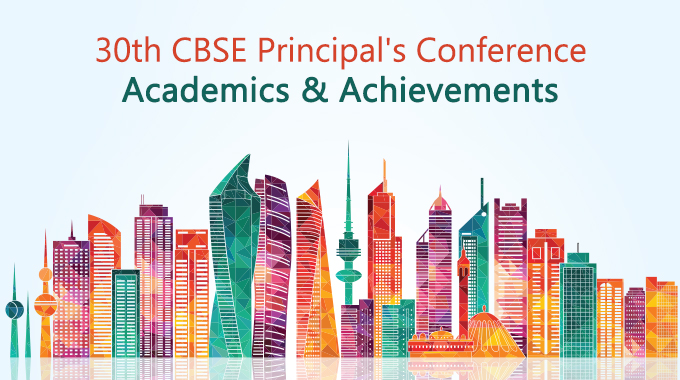 New year. New opportunities. New experiences!
Indeed, 2018 kicked off on a high note for me…. with a trip to Chennai for the 30th CBSE Principals' Conference – a yearly event covering 165 schools of the Gulf region. The Kuwait Chapter hosted the event this time. Themed on 'Education for Sustainable Development and Peace', the conference witnessed participation from many academicians, principals, CBSE officials and professionals.
Prints Publications also staged a stall at the 4-day eventful affair. Day 1 began with a welcome note by Mr. Premkumar, Director, Principal's Conference.The chief guests Sh. M.D. Dharmadhikari, Joint Secretary, CBSE, Chennai Region and Mr. A.C. Shanmugam, Founder & Chancellor of Dr. M.G.R. Educational and Research Institute addressed the delegates. It also had a training session by Mr. Siju Thomas, an international trainer for soft skills, followed by some business sessions and committee meetings. The day concluded on a melodious note with a musical programme.
The second day started with a presentation by Dr. T.P. Sasikumar, former space scientist. It was followed by a session by Prof. V.N. Rajasekharan Pillai, VC of UGC & former VC of IGNOU. The day concluded with a presentation by Prof. M. Anandhakrishnan, Chairman, Tamil Nadu State Curriculum Reformation. The sessions were interactive and informative at the same time.
One of the key highlights of Day 3 was the presentation by Dr. Dheeraj Mehrotra, former CBSE empanelled resource master trainer. Prof. Hariharan, President, Ashoka University, also hosted a session followed by Q&A.
The final day of the conference had a valedictory function beginning from 9am till 11.30am. The welcome address was delivered by Mr. M.P. Vinoba, Principal, Indian School IBRI. Mrs. Prasanna Bhaskar gave the presidential address. Chief guests of the function were Mr. Anurag Tripathi, IRPS, Secretary CBSE and the guest of honour was Mr. K.K Choudhury, Controller of Examination, CBSE. Special guests of the day were Mr. Joseph Emmanuel, Regional Officer, Delhi and Dr. Biswajit Saha, Additional Director, Academic & Training Director.
Papers on various issues around the curriculum, preparation of textbooks, conducting examinations, evaluation and assessment, etc. were presented. As an outcome, many possible solutions were discussed. As the conference concluded, the Gulf-based CBSE affiliated schools were felicitated for their outstanding performances in the fields of academics, sports and extracurricular activities. Toppers and many principals were presented with mementos at the ceremony.