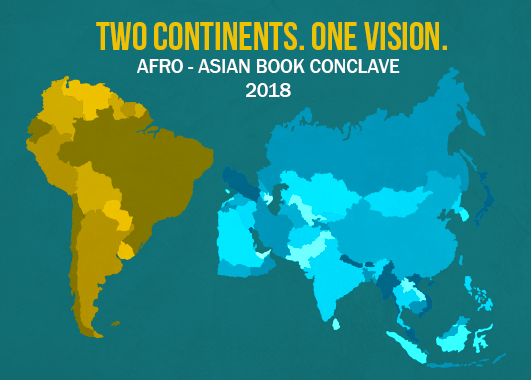 An event to evaluate and plan the achievement of intellectual self-reliance through mutual assistance and cooperation between Africa and Asia in authorship and publishing, Afro-Asian Book Conclave (AABC) was organised in Delhi by Afro-Asian Book Council, Capexil, Federation of Indian Publishers and Indian Reprographic Rights Organisation.
Themed around 'Book Publishing and Printing – Opportunities and Challenges', the programme was chaired by our new Chairman for 2018-20, Mr. Asare Konadu Yamoah from Ghana. Talking about the need and significance of AABC, Mr. Asare shed light on the importance of Asia and Africa in global publishing matters. After all, Africa alone has a school populace of around 380 million.
The event Guests of Honour were Shri Santosh Gangwar, Minister of State (Independent Charge) for Labour and Employment, Government of India; Shri Sakshi Maharaj, Member of Parliament, Lok Sabha; Dr. (Prof) Prasanna Kumar Patasani, Member of Parliament, Lok Sabha; and Shri Harinarayan Rajbhar, Member of Parliament, Lok Sabha. Special guests attending the conclave were H.E. Michael A.N.N Oquaye Esq., High Commissioner of The Republic of Ghana, and H.E. Joseph Kabakeza, First Counsellor and Deputy Head of Mission of The Republic of Rwanda.
In an address well received by everyone, our keynote speaker Professor Rajen Harshe, President, G. B. Pant Social Institute, Allahabad spoke about opportunities in the publishing world of Africa, the need to publish biographies of different African leaders, and the cultural likeness between the continents of Africa and Asia.
During the inaugural session, Secretary General Mr. Ramesh K Mittal and I conveyed our gratitude to everyone who attended the conclave, urging them to actively participate in council activities to achieve the aims and objectives of the AABC.
The thoughts put forth by the Ghana High Commissioner too were highly appreciated. He clearly mentioned that we should work together irrespective of creed or race, and impart knowledge in all sectors to create strong business associations between Africa and Asia.
The speakers discussed issues relating to copyright law in terms of illegal photocopying, piracy, parallel import and exports, author-publisher relationship, role of various RROs in the global publishing industry, activities done so far by IRRO, and aims and objectives of the IRRO.
The session wound up with a Q&A session on different copyright issues, and the issues identified with publishing. Extremely valuable and helpful for all participants, the session settled a lot of their queries.
This was the very first time when four organisations came together to organise this event. I can see a lot of opportunities in the Afro-Asian region, and our company would definitely work in this direction to promote Indian authors, books and journals in the African world. I must say that AABC 2018 was a fruitful event, which helped generate a lot of awareness on the publishing industry in the Afro-Asian region.