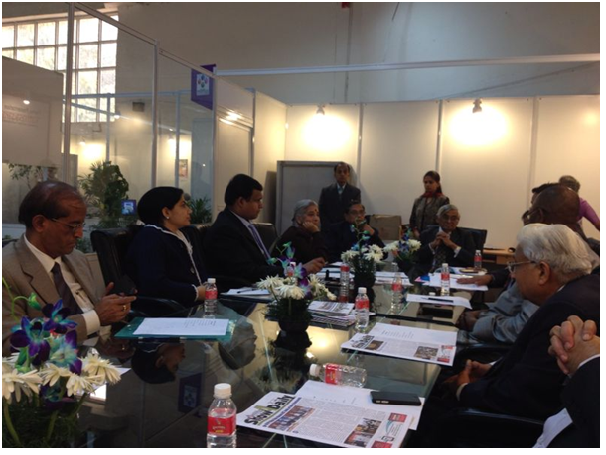 So, New Delhi World Book Fair is over. Hope you all attended and enjoyed too. The interested readers may read my musing on 'New Delhi World Book Fair: What to expect?'
Having commented on the NDWBF as an event, I'm going to give you the details about the Afro-Asian Book Council that I attended at the World Book Fair.
As an Assistant Director of the council, I was obviously invited to the event. For those who don't have an inkling what this is about, the Afro-Asian Book Council is basically a non-profit making organisation that's a forum of authors, publishers, translators and printers in Afro-Asian countries. Their focus is to expand the market. More details here.
So, this get-together was attended by over 40 participants and presided by Shri G.V.G. Krishnamurthy, the former Chief Election Commissioner. The out-going chairman from Nigeria, Mr. Dayo Alabi also attended the event. The council conferred six awards for excellence, including Shri A. Sethumadhvan, Chairman of National Book Trust and Dr. M.A. Sikandar, Director of National Book Trust.
The focus of the council was 'printed books vs. e books'. The industry experts expressed their views on the topic. And by what I remember, I guess most of them were in favour of printed books. Yes, e books have created the rage but printed books are here to stay. That's what I think too. 😉
Post this event, an Annual General Meeting of the Afro-Asian Book Council was scheduled. I'm quite elated to announce that I am being appointed the new Director of the Council. Also, the new members announced were Mr. Vijitha Yappa (Sri Lanka); Chairman Mr. Sukumar Das, Secretary General; Mrs. Padma Malini Rao, Assistant Director  and Mr. Randade, Assistant Director. Two new Vice-Chairmen have been inducted and they are Mr. Amethab Sen and Mr. Kailash Balani. I congratulate them both for their excellent feat. I'm sure everybody is as happy as I am.

With Mr. Sukumar Das, Dr. Terry O' Brian
I think the most significant part of this book fair was the Afro Asian Book Council. Well, I'm so looking forward to some kickass work with the council in the near future. 🙂
I will update the blog as and how it goes. Until then have a good day!