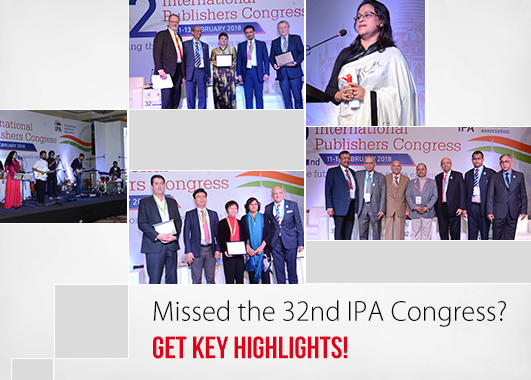 The Indian publishing industry witnessed one of the major international events this February. Hosted by the Federation of Indian Publishers (FIP), the 32nd IPA International Publishers Congress came back with a bang. It was an amazing experience being a part of this phenomenal 3-day event as an organising member.
Beginning on a high note, the opening ceremony of the IPA Congress was graced by esteemed dignitaries like Dr. Harsh Vardhan, Hon'ble Minister of Science & Technology, Ministry of Environment, Forest and Climate Change and Ministry of Earth Sciences, and Michiel Kolman, IPA President. This was followed by a video message from Prakash Javdekar, Hon'ble Minister of HRD.
"The development of humanity has depended much upon the publishing industry because the books published have reached to the corners of the world." – Prakash Javdekar
"We have a galaxy of great publishers in this publishing industry" – Dr. Harsh Vardhan
Dr. Harsh Vardhan assured that the government would be ready to lend a helping hand to all the publishers. He also emphasised that the publishing industry needed to develop institutionalised mechanism where such thoughts and ideas could be brought into light.
Mr. Amitabh Kant, CEO, NITI Aayog, underlined how technology would be a big disruptor whether we like it or not. He also stated how teachers play an important role in improving the quality of education.
Their support and kind gesture really meant a lot to publishers like me. After all, that is what we need from the government – their support to make this world a better and more learned place. I really liked how Dr. Y. S. Chi, Elsevier, pointed out that the reason we are struggling is because we are still stuck to the old definition of publishers. I believe we need to keep up with the dynamic business environment to upgrade our methods and approach towards a more innovative one.
"There has been a business model shift – platform economy that provides a new way of linking to customers." – Francis Gurry
Sharjah was recently declared as the World Book Capital 2019 by UNESCO. The participation by Sharjah Book Authority, and especially the panel participation of Mr. Ahmed Al Ameri, Chairman of Sharjah Book Authority, was a key highlight of the event. Ahmed Al Ameri mentioned that while there were no Emirati publishers in 1982, the number has increased to over 100 now. They indeed have come a long way, I must say. Not just the gulf but also the global publishing industry as a whole!
The IPA Prix Voltaire was awarded to Gui Minhai, a Chinese-born Swedish scholar and a book publisher. Two Special Awards were also announced for Liu Xiaobo, a Chinese literary critic, poet, human rights activist and Nobel Peace Prize laureate, and Faisal Arefin Dipan, a publisher from Bangladesh.
We concluded the IPA Congress 2018 with a beautiful evening of closing ceremony by handing over the flag to Norwegian 2020 hosts. It was surely one of the best publishing events I have been a part of. Hope there's more to come!