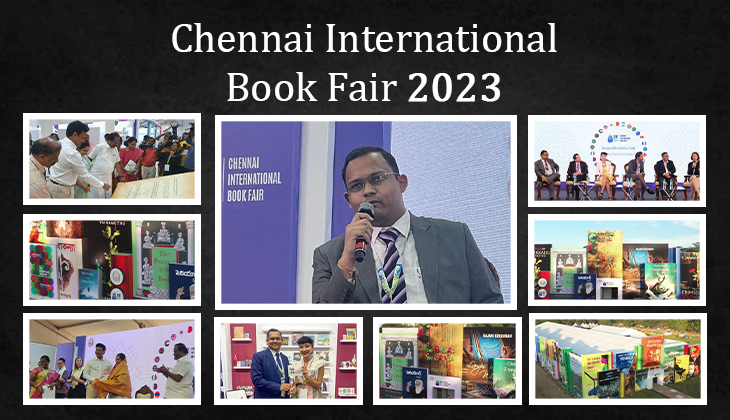 The Chennai Book Fair is being hosted successfully for the past 45 years, however, in the year 2023, it went through a major upgrade and went global. Yes, The Chennai International Book Fair took place for the first time from 16-18 January 2023 in a B2B component. Organized by renowned names; The Tamil Nadu Textbook and Educational Services Corporation and The Booksellers and Publishers Association of South India.
30+ international countries/ exhibitors participated in CIBF 2023 and the aim was for them to use the fair as a platform for literary and cultural exchange by promoting their authors as well as meeting with Tamil publishers.
A rights hub had been set up where publishers, translators and literary agents from the participating countries could meet with Tamil Publishers and authors who hold copyrights to Tamil literature. The goal of this vertical was to get Tamil literary works acquired and translated into several languages so that the global publishing community & readers from across the globe are introduced to the potential lying in Tamil literature.
The CIBF 2023 was attended by many who's who including the Chief Minister of the state, various ministers of the state government, Members of Parliament, bureaucrats, and various educationists. The fair attracted a huge audience and wide publicity of the 3-day-long literary celebration has been recorded on media.
I would like to state that it was a great effort put in by the entire organizing team within a very short span of time. The Chennai Government played a very critical role in supporting the event and hosting the fair so seamlessly. The Tamil Nadu government has planned to provide a global translation grant for promoting Tamil Literature to publishers who express interest in translating Tamil works into their language and I believe this a very strong and essential move. There is a lot to learn from the Tamil Nadu government and other states of India can take inspiration from the effort they have put in.
I am also delighted to state & share that I was invite as a panelist at the Chennai International Book Fair 2023. We received a very warm welcome and experienced the true Indian hospitality.
I participated in the panel discussion of 'Making CIBF a Truly Global Event' along with other distinguished speakers. I spoke from the India Book Market's perspective and showed what India has to offer in terms of publishing – the growth potential the industry holds. My deliberation was on encouraging literature festivals, and author talk shows. One critical suggestion on my behalf remains working towards making Chennai The World Book Capital in 2025 which would make a significant impact globally.
I really do hope that CIBF grows leaps and bounds.