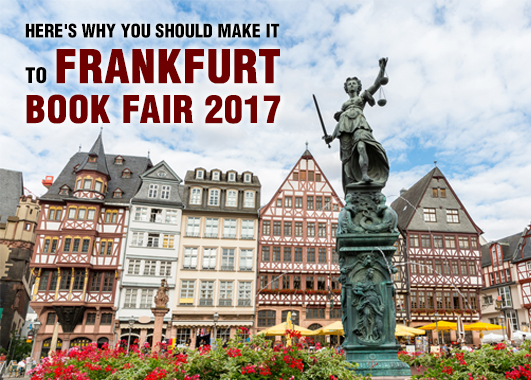 The biggest publishing event of the year is almost here! Much like every year, I can't hold my excitement to be a part of Frankfurt Book Fair 2017, and therefore, I decided to share my thoughts in this blog. I hope it helps you understand what the fair is all about.
Frankfurt Book Fair is the world's largest trade fair for books, based both on the number of publishing companies represented as well as the footfall. I believe it is the most important international trade fair for content, the centre of the international media world and a major cultural event. If you want to witness a more diverse, innovative and international side of the publishing and media industry, this fair calls you and how!
The five-day annual event in mid-October is held at the Frankfurt Trade Fair grounds in Frankfurt am Main, Germany. The first three days are restricted exclusively to trade visitors; the general public can attend during the weekend, for a fee.
Wondering why it is important for established as well as budding traders to be there?
Here's why…
A critical marketing event for launching books and to facilitate negotiation of the international sale of rights and licences.
Thousands of book publishing, multimedia and technology companies as well as content providers come together at one place.
Publishers, agents, booksellers, librarians, academics, illustrators, service providers, film producers, translators, professional and trade associations, institutions, artists, authors, antiquarians, software and multimedia suppliers – all participate in various events.
Access to important information and innovations related to the publishing market.
Great opportunity to network, and to expand business.
Looking for more reasons?
Well, the guest of honour or the focus of interest this year is French Literature, and the motto is Francfourt en francais (Frankfurt in French). For a reader like me, that's another big reason to be a part of this prestigious event.
If you too plan to be there, share with me here and I would love to meet you at the event.