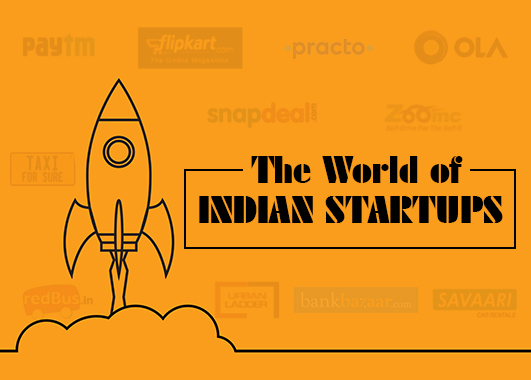 Every cover story, every article, and every feature has just one big glorified story- the story behind a successful startup. However fancy success may seem like, the hard work behind it is equally challenging. Ola, Flipkart, Paytm, Snapdeal, Grofers, etc. are some of the big players in the startup world that initiated with a simple plan and are ruling the market today as successful brands.
Now let's go back to when it all started. In the year 1980, IT giants like Infosys, WIPRO, Tata, etc. started a 'startup wave' in India. It was the year 1991 when the Indian economy took a major turn as it was on the verge of bankruptcy. Soon the second wave was brought in by telecom startups (now giants) like Airtel and Reliance that came into picture.
However, they were lacking three essential aspects:
Love for entrepreneurship
Capital funding
Knowledge about domestic problems
It was in late 90s when internet startups like Naukri.com, MakeMyTrip.com, IndiaGames and Shaadi.com brought the third wave. India took a big leap in October 2007 when two young and intrepid individuals decided to set up Flipkart and quit Amazon.The concept of entrepreneurship has been evolving and transforming ever since. Over the last 10 years, there has been a significant change in the overall ecosystem and ease of doing business in India. Government initiatives like StartupIndia have not only encouraged but also strengthened the sustenance route for many startups. The industry is richer now ranging from E-Commerce and Healthcare and Fintech and Foodtech.
India's startup hub is third largest in the world, with more than 3000 new companies. Gaining fame as India's Silicon Valley, Bengaluru has emerged as the undisputed leader when it comes to startups. With ever-growing talent pool, technological upgradation and new investors' presence, several large startups moved to the southern city because that's where they spotted the right ecosystem for growth. It is home to some of India's biggest startups, including Flipkart, Myntra, Ola, Swiggy, and BigBasket.
On the same note, not all startups could climb the ladder to success. There are stories of TaxiForU, GrocShop, LocalBanya, Zoomo and many more startups that bit the dust. A startup success story depends on many key factors, funding being the major one which is supported by sustainable business model, great execution and a good contingency reserve.
Coming to the women entrepreneurs, the share of women-funded startups continues to remain a minority in India. In the year 2018, only 4.5 % of the funding deal volume went to startups with just women founders, while such companies got only around 3 percent of deal value. There's indeed a wide scope of improvement there!
In the year 2017 India ranked 37th among 125 countries in the world based on their startup ecosystem strength and activity. While the overall startup scenario is very promising, I still feel we have a long way to go when it comes to tax compliance, government policies and convenience of conducting business.