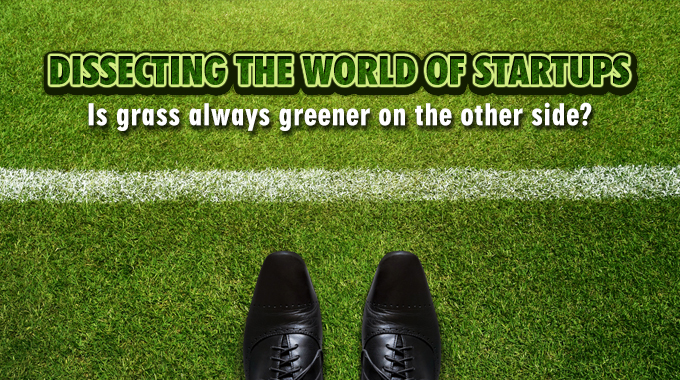 All that's rosy isn't really ripe! Get that, did you?
Well, am talking here about the different shades of the startup ecosystem. The good, the bad, and the ugly. In my last blog Indian Startup Ecosystem- A Bird's-eye View, I majorly discussed the brighter side of the startup world in India, on how everything is changing rapidly with motivating startup success stories. That's indeed terrific I know, but if we look closer, there's more to dig and beware of when it comes to these startups.
So here I am, set to dissect the startup world from the best to the worst. Proceed, shall we?
India has a population of 1.3 billion people approximately. I agree our population count is not something to be proud of but hey, it has a brighter side too. With population boom comes a big opportunity for startups to solve a variety of problems that we are currently facing. In our country, middle class is always on a rise, which contributes to a major chunk of the consumers. The large diversity in India's population makes a strong case for a rich products and services economy. Have a great solution to bridge the gap between developing and developed nation? I don't see why your future ain't bright in days to come.
Incubations programmes, angel funding, crowdfunding and seed funding are words of bliss for young entrepreneurs who are on their quest to turn dreams into reality. These are the solutions to the funding problem they face, despite having an amazing idea. Any startup, to begin with, needs to be backed by a strong funding as initial returns might not be as quick as you might think.
Financially settled in a growing market, now let's analyze the infrastructure. A complicated framework of laws and regulations is more of a task when it comes to starting up with something. Such complications also trigger reluctance resulting in lesser startups. Even though government with its progressive initiatives like Make in India and Startup India, has done well in boosting the culture but it is not enough. Acquisition of government funding s is fairly tedious.
Moving on to talent acquisition, let's see the reality from a much closer and relevant perspective. You believe in your startup idea and manage to get the desired funds, but no idea can prosper solely on the basis of funds. To turn a great idea into an amazing workable product, you would need manpower to execute the plan. Sadly, not many people are willing to work with startups, in that sense, resource retention is a considerable roadblock in the formative years of any startup.
Having said that, everything comes with its own share of sweet and sour sides. Entrepreneurship is a promising career but the zeal to give your best and be ready for the worst is what it makes it super challenging. Don't mean to demoralise but a reality check always helps, doesn't it? I believe more than success, it is failure that teaches you better.