I know it's a little late to write on 'Jaipur Literature Festival' given the fact that it's a thing of the past now. But as they say if you've a thought, it's never too late. And as it's considered as 'The Greatest Literary Show on Earth' by the pros, so it kind of becomes a must for me to comment. 🙂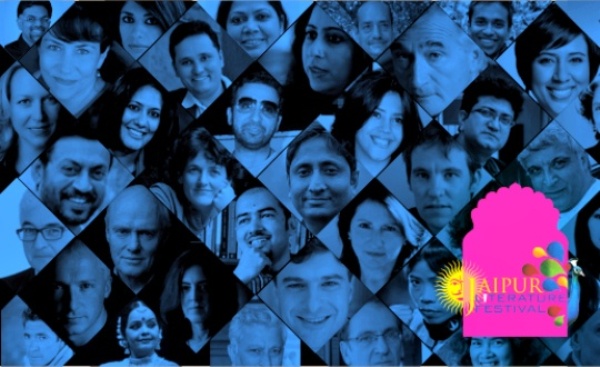 As I've already mentioned on my previous post, this literary festival is something that blends it all. The best thing is that this fest gives us the opportunity to attend multiple events in one literary festival. With 136 literary events and more than 100,000 attendees, this Asia's biggest festival does gives ample of opportunities to the visitors to embrace the culture.
From politics to social issues and from literature to glamour, they practically covered it all. The presence of a vast variety of speakers from Jhumpa Lahiri to Ekta Kapoor to Amish Tripathi proves this fact. While the critics have started calling it an event which is more of a commercialisation of literature and is more dependent on the celebrity power, I would say these are quite the reasons that resulted in making it the most popular literary festival in Asia. The fact that it is a big hit and is free for all makes it more hip.
Anyway, talking about this year's fest, every big event has its own set of show stealers… well Jaipur Literature Festival is no different. Scholar-author Reza Aslar managed to be the show stealer here which I think is very well deserved. If you've no idea what I'm talking about, here's a little introduction. Reza is the one who wrote this eminent book about the life of Jesus Christ, 'The Zealot'. Kudos to his witty sense that the line for his autographs went on increasing as the days passed by. So, if there was somebody who didn't know him on the first day, I'm sure he/she sure knows him now. Yes, that was his charm. I personally didn't attend this fest but I did keep a tab and I'm pretty much awed by him.
Other than this superstar, there was also some other literary draws that kept the fest moving. One of the most important key was Jhumpa Lahiri. Many an eminent personalities gave it a miss this year. A few of them are Shashi Tharoor, Barkha Dutt, Mary Kom, etc. Keeping the no-shows aside, there were quite a many nip and tuck who kept the enthusiasm of the people high. All in all, it had a decent show.
Hope I make it to the next year's session… and so should you. 🙂