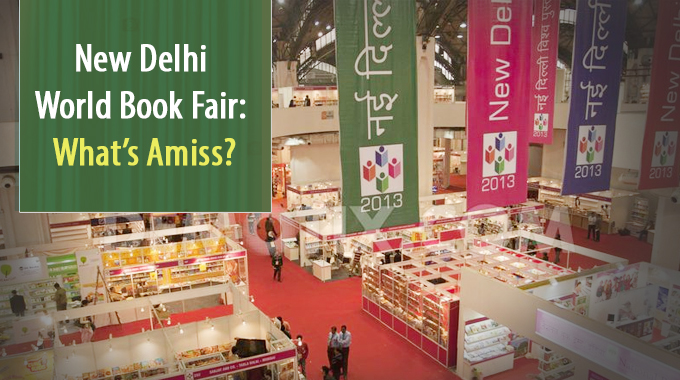 Held for the last 45 years, the New Delhi World Book Fair (NDWBF) is now a major calendar event in the publishing world. With each passing year and growing number of participants, the NDWBF has grown tremendously. This time around, the 25th edition of NDWBF will be held from 6th to 14th January, 2018 at Pragati Maidan, New Delhi. Needless to say, I am looking forward to it!
The event has been organized by the National Book Trust (NBT), India, an autonomous organization under the Ministry of Human Resource Development, Government of India, India Trade Promotion Organisation (ITPO), which is in association with the Federation of Indian Publishers (FIP).
As of today, Indian publishing stands at a significant crossroad, which leads towards the path of growth, and NDWBF offers the participants a unique opportunity of doing business in the growing book industry, making it an ideal venue for promoting books, co-publication arrangements and trade. Besides the many literary and publishing conferences and programmes organized during the fair, the platform also opens up a gateway to the publishing and intellectual world of South Asia. Attracting participation from major publishing houses across the globe, the fair is intended to promote books and help inculcate the habit of reading among people of all age groups in the country.
Though the event is a huge affair and is supported by many trade federations across the globe, the NDWBF has lost its charm in the current day scenario. As a member of the Executive Committee, The Federation of Indian Publishers, I feel obliged to comment on the situation and look into what's amiss, considering the significant footfall of the event.

Going by the graph above, it is quite evident that NDWBF fared better till the time it was a biennial event, i.e. till 2012, but since 2013, where it became an annual event, there's been a huge drop in the overall participation. This applies to the area as well, and the stalls booked with ITPO. With an all-time high participation till 2010 & 2012, I seriously feel that we need to go back to the time when NDWBF was a biennial event, instead of being an annual one.
It's high time that the National Book Trust of India should consider doing so, so that the event regains its value as it had in the past, and brings back the zeal and excitement, which it once had.
What's your view on this matter? Do share your take in the comments below.