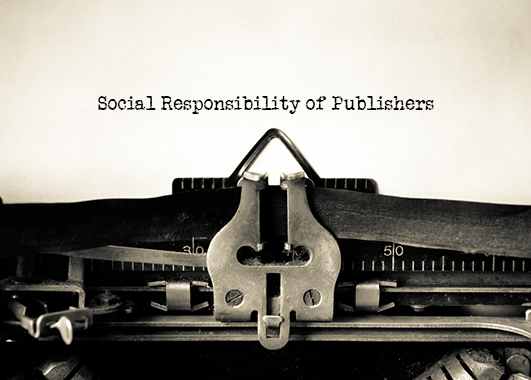 The publishing industry plays a key role in building the society and community, intellectually and morally. We publishers need to steer our efforts towards the development of nation, especially in research.
Research papers and journals are the storehouse of knowledge, and they hold immense potential to bring a change in thoughts, actions and imagination. Social responsibility is more than just a corporate philanthropy. It is more about how you make that difference in the world. Initiatives that promote literacy and provide affordable content are some of the most common social goals. But can we move beyond that? Definitely, and that's why I decided to pen down my thoughts in this blog.
We publishers are a community as a whole, and supporting each other is equally an important responsibility. It's imperative to promote freedom of expression, support fellow authors and raise voice for the times we find our freedom under threat. Recognizing authors that are doing wonders through their works and appreciating their efforts will help us grow regionally and globally. Hence, we should aim for investing in new ideas and helping those ideas reach the masses and impact lives.
Having said that, what comes next is our contribution to the environment. A society is not just limited to its people but the environment as well. What are we passing on to our next generations? From choosing the papers to inks for printing, the focus should be on creating healthy readers of tomorrow. The need of the hour is to go organic and build a sustainable environment.
We are not limited to content. We travel beyond books with our ideas and roles to play. Don't you agree?