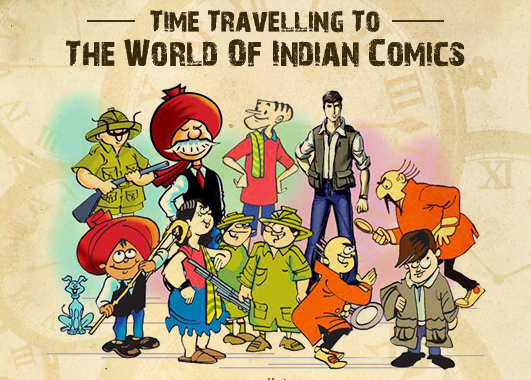 From growing up listening to bedtime stories from parents to narrating the same as a parent myself, the only thing constant is – storytelling. Talk about childhood memories of stories, and we can't keep away the excitement that the colourful comics always brought into our lives. Comics are graphic representations of stories, and can be included as a form of storytelling, no matter how long or short it is.
The Generation X may have become limited to DC and Marvel comics, but no one can overlook the irresistible flavour that Indian comics bring to our lives. If you are a fan of such tempting books, here's a lowdown on when it all started.
Indian comics gained momentum after 1947 and witnessed its golden period after the 1960s. Anant Pai, the famous creator of Amar Chitra Katha and Tinkle, was a pioneer in Indian cartoon. Amar Chitra Katha was the first original Indian comics book with over 90 million copies sold in 20 languages. Talking about 60s and comics is incomplete without mentioning Pran Kumar Sharma, a.k.a the Walt Disney of India. He started his career as a cartoonist with the comic strip 'Daabu' in 1960. In 1969, he created Chacha Chaudhary, who found some ardent fans not only among kids but also young adults. Soon, Billoo, Pinki, Raman and Channi Chachi came into existence.
In 1964, Times of India launched Indrajal Comics with The Phantom series as a big hit. Later on, they published Bahadur, a comic book superhero created by Abid Surti in 1976. This was soon followed by the entry of Diamond Comics in 1978 with Fauladi Singh – a science fiction comic character with supernatural powers.
As competition increased, the 1980s proved to be the golden era for Indian comics as the Tinkle magazine came into picture. Founded in 1981, Tinkle achieved nationwide recognition, thanks to its popular characters like Shikari Shambu, Ramu & Shamu, Kaalia the crow and Suppandi. Legendary cartoonist Ram Waeerkar created Supandi. In 1986, one of the longest running Indian publishing houses for comics, Raj Comics came into picture with characters like Super Commando Dhruv, Parmanu, Doga, Bheriya. However, the launch of Nagraj made Raj Comics taste fame and change the scenario of Indian superheros forever.
By early 2000s, only two big players remained in the market – Diamond Comics and Raj Comics. In 2006, Virgin Comics inspired new entrants and new content for the new generation. It later got renamed to Liquid Comics in 2008.
While the late 2000s saw old readers returning to their favourite characters, new readers too began taking interest in sampling these titles. Thanks to digitisation, these characters are no longer confined to prints, and are also available on smart devices as well as online.
Societies have progressed, so has the visualization of stories. No wonder, Indian comics are back on the upswing with a surging sales witnessed in the past 4 years. Looks like Indian comics will soon see a huge demand and enjoy good times again. What do you have to say on this? Share your views in the comments section.