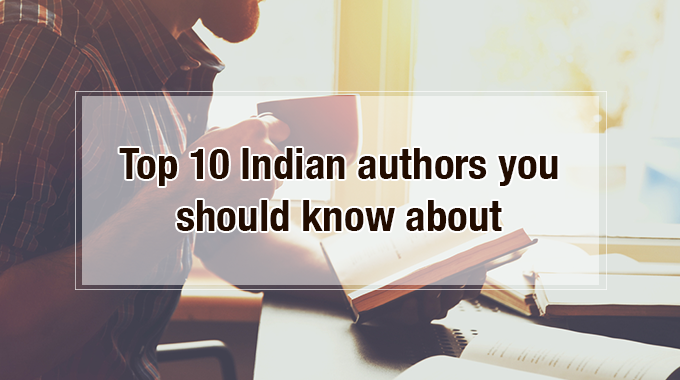 Today, while reading 'The God of Small Things' by Arundhati Roy, I realized that India is a storehouse of talent with amazing authors refining the literary world effectively by contributing their part. Great works by Indian literary geniuses have helped them leave their mark on the international literary scene too. Many Indian authors have been honoured with prestigious awards, both nationally as well as internationally, for their excellent contributions to the field.
Listed below are the top 10 famous Indian writers you ought to know about.
Arundhati Roy: Arundhati Roy's name flourished automatically after her first novel, 'The God of Small Things', which won enormous hearts not just in India but abroad too. Her command over the language along with the introduction of few Malayalam words keep the reader engrossed thoroughly. This book has won the Booker Prize, the most prestigious award in English fiction. Her non-fiction book portrays her views and thoughts regarding equality and freedom, irrespective of your social background.
Vikram Seth: A great writer who had earned fame via his second novel 'A Suitable Boy', Vikram Seth talks about the harsh reality of dependent and non-dependent India, the killing manifest and crabbed condition of the main character of this book. His works are always full of depth.
Kiran Desai: A booker prize winner, Kiran has been termed as a 'Scientist of English Fiction', owing to her vivid experiments in the narration of fiction. Her books have humour appeal, with the right use of irony at the right time. Her book, 'The Inheritance of Loss' had garnered much appreciation. She is rightfully termed as a true contemporary writer.
Aravind Adiga: 'White Tiger', a great novel that easily won hearts in India and abroad had been written by Aravind, for which he won the Booker's Prize. The book comes as a surprise for readers, with all the realistic and strategy based scenes till the end.
Anita Desai: A great novelist known for her philosophical writings and in depth analysis of feminine sensibility, Anita Desai's story plot revolves around an isolated human who got completely abstract from the city life. Her masterpiece as of now is 'Cry, the Peacock.'
Khushwant Singh: Khushwant Singh is a novelist, lawyer and journalist popularly known as a writer with penchant for good humor and poetic sense. His acclaimed book, 'Train to Pakistan' is a haunting narrative about conflict, war and violence and through which, Singh implores the readers to incorporate a more humanitarian worldview.
R K Narayan: He is one of the greatest Indian writers who has received worldwide recognition for his glorious contribution to English Literature. As a great novelist and short story writer, his work throws light on the common Indian man. Some of his acclaimed fictional works are 'Malgudi Days', 'The English Speaker', 'The Guide' etc.
Amitav Ghosh: He is a famous Indian writer and has been nominated for Man Booker Prize, besides being honoured with the Locus Award for Best Science Fiction Novel. His most popular books are 'Sea of Poppies', 'The Hungry Tide', 'River of Smoke' and 'The Calcutta Chromosome'.
Manohar Malgaonkar: Manohar Malgaonkar is a renowned Indian novelist possessing a great historical taste, something evidently visible in his fictional terms. You could enjoy a good mix of romance and suspense in his acclaimed novel, 'A Bend in the Ganges'. The novel portrays the impact of the Second World War on humanity.
Mulk Raj Anand: His contribution to the literature world has been great. He has written mostly about impoverished section of the traditional Indian society. His popular books are 'Untouchable', 'Two Leaves and a Bud', 'Coolie', 'The Sword and the Sickle' and 'The Private Life of an Indian Prince'.
The world of books is enormous and so is the world of writers. These writers are in my top 10 list and I think you should definitely give their books a try.